Room Categories
All of our Waikiki Beach hotel rooms are about the same size, sleep up to four adults and have full in-room amenities. The main differences are in the views. We do our best to accommodate special requests, however room locations and bedding configurations are based on availability and are assigned at check-in.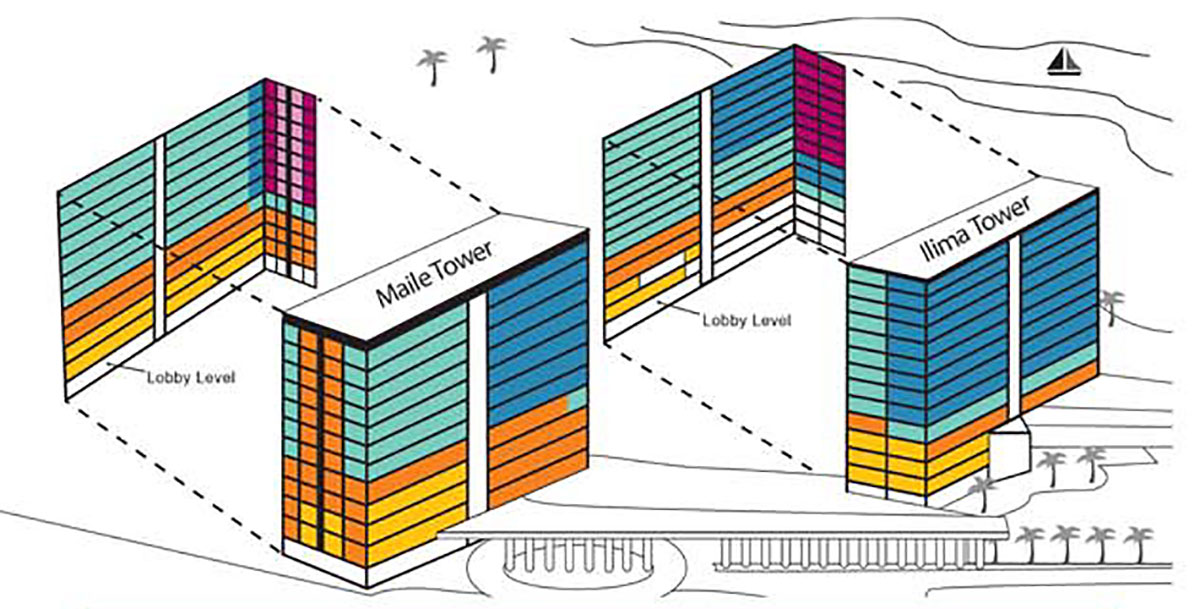 STANDARD
Limited views from the lowest floor
Garden View Room
Views that overlook the resort grounds
Partial Ocean View
Modest views of the ocean from the Lanai (balcony)
Ocean View
Views of the ocean from the Lanai (balcony)
Ocean Front
Stunning ocean views from the Maile Tower
Deluxe Ocean Front
Breathtaking ocean views
Room Rates 2020 - 2021
I
II
III
IV

Effective 1, October 2020 - September 30, 2021

E1 - E6*
E7 - E9
W01 - CW03
O1 - O3
Widows / 100% DAV*
CW4 - CW5
O4 - O10
DOD Civilians*
Disabled Veterans
Equal Access Act*
All Grades
TDY / PCS / TLA*
Foreign Military*
Standard
$139
$169
$177
$177
Garden View
$149
$189
$199
$234
Partial Ocean View
$169
$214
$229
$269
Ocean View
$179
$234
$244
$284
Ocean Front
$294
$294
$294
$349
Deluxe Ocean Front
$334
$334
$334
$379
Room Rate Policies
Rates are subject to change on or before 1 October 2021
Rooms for sponsored guests of Category I will be charged at Category II rates

Rate II: 100% Disabled with DD Form 1173, DD Form 2765 or DD Form 2 with VA Letter

Rate III: DoD ID or Retired SF50 required for check-in
Rate III: DAV (0-99% Service Connected), Purple Heart and POW with VHIC card, Caregivers of DAV with official VA letter and ID - Disabled Veterans Equal Access Act

Rate IV: PCS/TLA Rates: Single Occupancy $115

Rate IV: Only foreign military with U.S. Travel Orders or assigned to a U.S. Military Installation with Common Access Card (CAC)

Rooms have a maximum capacity of 4 guests.

Additional $15 per person per night for the 3rd and 4th guests.

Children under 18 are free in the parent's room.

We reserve the right to modify or cancel reservations or rates. At check-in, the Front Desk will verify ID to ensure eligibilitity, and rates will be modified to match the correct rank. Check out dates will be verified and rate quotes are based on eligibility and rank.

Cribs are available, free of charge, upon request.
Rollaway beds or cots are not allowed or available.

Reservations are confirmed by room type, and not by specific location. We try to accommodate special requests (e.g. tower preference, bed types, connecting or adjoining rooms). However, we cannot guarantee being able to fulfill these requests. Note: Adjoining rooms are near each other, but don't connect. Connecting rooms may be available, but are also limited.

Room reservations will not be accepted more than 365 days in advance of arrival date of requested stay.

Reservations may be made for a maximum of 30 days.

Guests may not register again within a consecutive 90-day period.

Pets are not permitted, except Service animals following state and local health regulations as well as federal ADA regulations.

Cancellation Fee: You may cancel up to 30 days before the start of your reservation without penalty. If you cancel within 30 days of your arrival, you will be charged one night's stay, per reserved room.

Early Departure Fee: Should you choose to leave earlier than scheduled, a (1) night early departure fee will be incurred.

If a room is not available during the time you'd like to visit, we invite you to check back periodically. We also can help connect you to nearby hotels with special rates available for our guests, based on their availability, too. Remember, even if you stay at a different property, the Hale Koa Hotel's restaurants and events are still benefits available to you as an eligible guest.

Now's another good time to review eligibility requirements.
Information subject to change.
Room Rates 2021 - 2022
I
II
III
IV

Effective 1, October 2021 - September 30, 2022

E1 - E6*
E7 - E9
W01 - CW03
O1 - O3
Widows / 100% DAV*
CW4 - CW5
O4 - O10
DOD Civilians*
Disabled Veterans
Equal Access Act*
All Grades
TDY / PCS / TLA*
Foreign Military*
Standard
$149
$179
$189
$195
Garden View
$159
$199
$209
$245
Partial Ocean View
$179
$224
$239
$285
Ocean View
$189
$244
$259
$295
Deluxe Ocean Front
$347
$347
$347
$394