Little Reason To Leave the Lanai
This is what comes to mind when you think of a Hawaiian vacation. Peaceful water views are yours with an Ocean View room in the Ilima or Maile Tower. Scope out the ocean conditions in comfort before heading down to enjoy all that our Waikiki Beachfront has to offer. All for a price that's hard to imagine.
One King Bed, Two Queen Beds or a Double Bed with a twin chair Sofa Bed

Up to a 55" Flat Screen Hi-Definition LCD TV

Free High-Speed Wireless Internet

Private Bathroom

Complimentary Bath Amenities

Single Pod Coffeemaker with Paradise Coffee and Condiments

Mini Cooler (Not suitable for storage of medical products or perishable items).

Bedside "CubieBlue" Bluetooth, Alarm Clock, USB and Power Outlets

Hair Dryer

Iron and Ironing Board

In-Room Security Safe

Extra Pillow and Blanket

Plush Towels
Please note: Room images represent room category and may not correspond to the actual room and view received. Amenities subject to change without notice.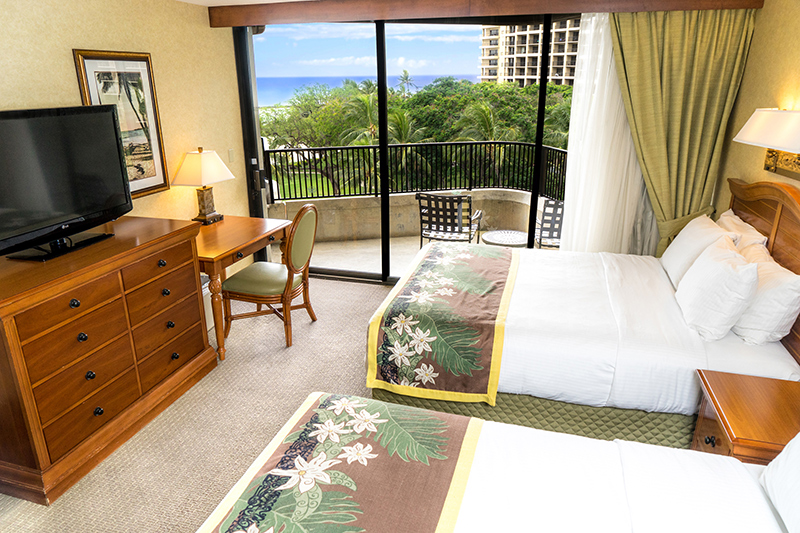 Room Rates 2023-2024

I

II

III

IV

Effective 1, October 2023
September 30, 2024

E1 - E6

E7 - E9
W01 - CW03
O1 - O3
Widows / 100% DAV

CW4 - CW5
O4 - O10
DOD Civilians
Disabled Veterans
Equal Access Act

All Grades
TDY / PCS / TLA
Foreign Military

$184

$214

$234

$244

$214

$259

$274

$298

$289

$289

$289

$324

$395

$389

$389

$410
Room Rates 2024-2025

I

II

III

IV

Effective 1, October 2024 - September 30, 2025

E1 - E6

E7 - E9
W01 - CW03
O1 - O3
Widows / 100% DAV

CW4 - CW5
O4 - O10
DOD Civilians
Disabled Veterans
Equal Access Act

All Grades
TDY / PCS / TLA
Foreign Military

$189

$219

$239

$249

$219

$265

$279

$307

$295

$295

$295

$330

$395

$395

$395

$415
Room Rate Policies
Rates are subject to change on or before 1 October 2024

Rooms for sponsored guests are based on Category III rates

Rate II: 100% Disabled with DD Form 1173 or DD Form 2765

Rate III: DoD ID required for check-in

Rate III: DAV (0-99% Service Connected), Purple Heart and POW with VHIC card, Caregivers of DAV with official VA caregiver letter and ID - Disabled Veterans Equal Access Act

Rate IV: PCS/TLA Rates: Single Occupancy $131, Double Occupancy $202 for standard category and based on availability. (effective March 1, 2023)

Rate IV: Only foreign military with U.S. Travel Orders or assigned to a U.S. Military Installation with Common Access Card (CAC)

Rooms have a maximum capacity of 4 guests.

Additional $15 per person per night for the 3rd and 4th guests.

Children under 18 are free in the parent's room.

A one night deposit when booking a reservation is required. The deposit will be deducted from your total room bill at check out.

We reserve the right to modify or cancel reservations or rates. At check-in, the Front Desk will verify ID to ensure eligibility, and rates will be modified to match the correct rank. Check out dates will be verified and rate quotes are based on eligibility, rank and number of guest verification upon check-in.
Reservation Policies
Room reservations will not be accepted more than 365 days in advance of the arrival date. To ensure equitable use of the hotel, guests may not stay more than 30 days or register again within the following consecutive 90-day period.

Reservations are confirmed by room type, and not by specific location. We try to accommodate special requests (e.g. tower preference, bed types, connecting or adjoining rooms). However, we cannot guarantee being able to fulfill these requests. Note: Adjoining rooms are near each other, but don't connect. Connecting rooms may be available, but are also limited.

A $75.00 room move fee will be assessed for each room move following check in.

Reservations are non-transferable to other eligible guests.

The hotel is not considered government quarters. Official travelers should contact their travel service for guidance on reimbursement

Dependents, other than the spouse, who have not attained the age of 18, must be accompanied by an eligible adult.

Cribs are available, free of charge upon request.

Rollaway beds or cots are not allowed or available.

Pets are not permitted, except Service animals following state and local health regulations as well as federal ADA regulations.

Personal electrical items, such as cooking appliances and coffee makers are not permitted in rooms.

Cancellation Fee: You may cancel up to 30 days before the start of your reservation without penalty. If you cancel within 30 days of your arrival, you will be charged one night's stay, per reserved room.

Early Departure Fee: Should you choose to leave earlier than scheduled, a (1) night early departure fee will be incurred.

When the hotel is 100-percent reserved, a waiting list will be established using the following priorities:
Active duty military personnel

All other eligible personnel.
If a room is not available during the time you'd like to visit, we invite you to check back periodically. We can also can help connect you to nearby hotels with special rates available for our guests, based on their availability. Even if you stay at a different property, the Hale Koa Hotel's restaurants and events are still benefits available to you as an eligible guest.
Information subject to change.